A great way to illustrate and market your business to potential customers is through a video advertisement. Video advertisements come in different forms and purposes—but if your objective is to illustrate the inner workings of your business, a whiteboard video is the most suitable. 
Whiteboard videos make use of a "whiteboard," with marker drawings and illustrations to present a concept or idea. There are various whiteboard video makers online, some for free, and some with unlockable features that come at a price. 
While it's certainly tempting to channel your own creativity and create the whiteboard video on your own, it's simply not viable. You're too busy to get it done. You need to focus on overseeing the business rather than obsessing over one aspect. 
In which case, whiteboard freelancers are here to save the day. They will create the whiteboard videos for you, according to your instructions and their expertise. And you can just simply sit back and wait for your video to be delivered. 
We compiled the 5 best whiteboard video freelancers in Fiverr, which is one of the largest freelancing platforms in the industry. 
Whiteboard animation video or sales explained by khan_16
This particular gig is run by khan_16. It has an impressive average rating of 4.9 stars, from over 600+ previous buyers. More importantly, the reviews section is flooded by positive feedback. Expect to be met with the same experience. 
The gig is Pakistan-based, run by khan_16, who has been active in Fiverr for over 4 years. He is a full-time whiteboard animation video creator and a 2D animator. 
Khan_16's Basic package costs 40 USD for a 15-second video, complete with voiceover, background music, and background images. The delivery timeline is within 3 days. 
The voice-overs are energetic. The animation itself is high-quality and relevant. Khan_16 works in an easy-to-follow flow resulting in a non-complicated whiteboard video. The video is rendered in high resolution. 
The remaining packages, Standard and Premium, are 150 and 225 USD respectively. The Standard package also includes scriptwriting with a running time of 60 seconds, while the Premium package adds color branding for 90-second running time. 
And the best thing of all? You can choose clips to be included in your outro or intro for FREE. 
Animated explainer or sales video by myexplainervid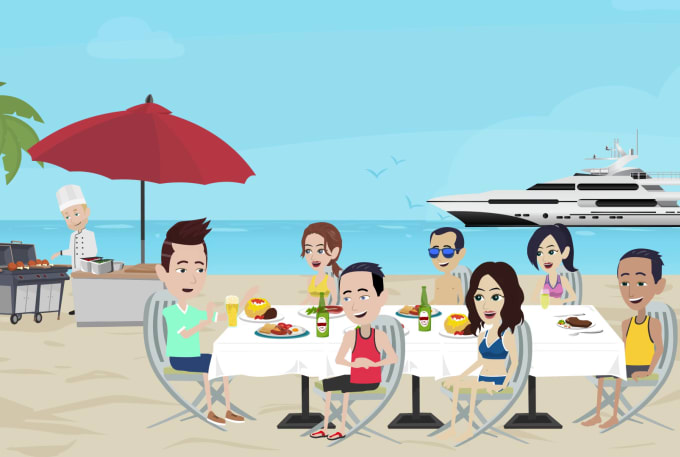 This gig is a bit pricey compared to the other gigs on this list. This is because the person who runs this gig is a Fiverr top-rated seller. This gig, in particular, has garnered 800+ ratings that accumulated to its 4.9-star average. 
Also, instead of being plain, whiteboard videos, you will receive high-quality animation, with a colored and friendly animation style. This makes the videos more interactive and engaging for the viewers. 
The Basic package is priced at 125 USD and provides the following: a 30-second long video, with a professional voice over and royalty-free background music delivered within 10 days in 1080p video quality. 
The Standard and Premium packages cost 190 and 290 USD respectively. Both packages allow unlimited revisions and commercial rights. It also comes with a logo addition and color brand matching of your choice. This will make the videos more cohesive and remarkable to the viewers. 
The gig is run by Akash, who has helped boost traffic for websites and grow businesses through his video animations throughout the years. He has been in the industry for 7 years and well-trusted by many. 
Pro-explainer animation in American English by alicevoiceover7 
If you're not taking any chances and are willing to invest in a high-quality animation video for your business, the works of alicevoiceover7 are definitely going to be your saving grace. For one, the gig itself is rated with a perfect 5.0 stars, by over 300 past customers. That means every single one of those past customers gave a perfect 5-star rating. 
Secondly, the edge of this gig from the other gigs in this list is the voice-over artists. These are professionals that give high-quality voice-overs in American English. This is especially helpful if your business caters to Americans. 
The cheapest package is the Gold package, priced at 150 USD. They will use your script as is, without revising or editing anything. It already has background music and background animations. However, the liberty to choose specific scenes or provide a storyboard is not available. Expect a 30-second video from this package. 
The next tier, the Platinum package, is worth 225 USD. Aside from all the inclusions of the Gold package, they will also revise and enhance your script to better serve its purpose. The most expensive package is the Diamond one, at 350 USD. You also unlock the liberty of providing scenes and a storyboard with this package. 
Explainer or animated video by guyman20 
This is our recommended gig for everyone who wants their videos to be done in the easiest, most convenient, and most efficient manner. The packages in this gig are already complete. You only have to provide Guy Manzur (the one running the gig) everything that he needs and waits for the video delivery. 
The main downside of this gig, however, is that the delivery timeline is longer than regular. The Basic package already requires a 17-day delivery. It's not advisable for those who don't have the patience to wait for the video. 
However, if you're willing to wait, this gig will certainly be beneficial for you. For one, the most basic package (2D Animation) already has it all—30-seconds running time, a voiceover, a script, a storyboard, background music, and background imagery. All for 400 USD. 
The 2D Lines Animation provides a clean, sharp animation style for 600 USD. The 3D Modern Isometric Animation is at 800 USD. 
The gig has a 4.9-star average rating, from a landslide of around 2000+ past customers who left a star reflecting their satisfaction. The reviews section reveals the truth if working with Guy. 
"He is very attentive to his customers and listens to their every request. He is very pleasant to work with, and only aims to provide good service for the betterment of your business." is what you need to know from previous buyers. 
Whiteboard animation with scriptwriting and voiceover by mmsolutionsltd
The performance and stats of this gig on the Fiverr website are definitely impressive. For one, it has received 500+ customer ratings. Two, it has a perfect 5.0-star average. Third, the freelancer who provides this service is also rated 5.0 stars from over 1000++ reviews. 
This gig is run by mmsolutionsltd, or Maureen. She is Philippines-based and has been an active Fiverr user since 2012. Her extensive freelancing experience has bestowed her with the knowledge and wisdom of accompanying different kinds of clients to achieve their different goals. 
She is fluent in English, German, and Spanish, so if you are a business owner whose business caters to those speakers, you will definitely find Maureen useful and important to your business. If you are more comfortable conversing and discussing business ideas and plans in these languages, then, all the better. 
The Basic package costs 180 USD for a 30-second whiteboard animation video that includes the script, voice-over, and animation. The next package is the Standard package, at 360 USD for a 60-second video. Lastly, the Premium package which has a running time of 90 seconds, for 540 USD. 
This gig offers fast delivery. Additionally, you are allowed an unlimited number of revisions. The animations produced by this gig are easy to follow and of high-quality. Expect to be satisfied with your purchase. 
Those were the 5 best whiteboard animation freelancers in Fiverr. All 5 are excellent in their own craft and will surely boost your business to your target audience. Which of them are you already eyeing?